Following a competition, the Government Geography Profession launches its new logo and branding. We hear from Sarah Cashon, designer of the new logo, on the inspiration behind her design.
"My name is Sarah Cashon and I have worked at the Environment Agency for just over two years, after graduating from the University of Leeds with a degree in Geography.
At the Environment Agency I work in the Data and Evidence team, coordinating, managing and analysing flood risk data.
People often ask me if I use my degree in my job at all, and the answer is yes… everyday! Geography is central to the work that I do. For example, I use the technical GIS skills gained through my degree whilst carrying out work such as creating Recorded Flood Outlines (RFOs) and analysing modelled flood data, which then go onto inform flood risk decisions internally and in wider society.
As well as being a proud geographer, I also have an interest in art. That's why when I saw the call to submit designs for the new Government Geography Profession logo, I jumped at the opportunity and began brainstorming some ideas.
I like designs which are multi-layered in their meaning or symbology, and therefore tried to create a logo that matched this description. However, the acronym for the Government Geography Profession (GGP) which reads vertically from top to bottom in the logo that I designed was a happy accident! I was thinking more about how to fit a long word like geography into a more condensed form, and therefore arranged the letters to fit a square-like shape. I then spotted the GGP acronym, thought it worked well and tried to highlight it by making the colour of these letters slightly different to the rest. The logo's finalised 'squoval' shape reflects the Profession's connection to the Analysis Function brand identity.
When I submitted the design I wasn't sure whether people would notice the hidden acronym, but it turned out they did, and to my delight the logo was voted as the winner to be the Government Geography Profession logo."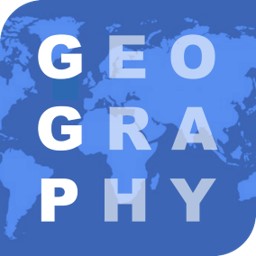 The logo and GGP visual identity material will be available on the GGP members website. The profession would like to encourage members to start using the logo in email signatures and presentations where appropriate.